Books
Universities and the Occult Rituals of the Corporate World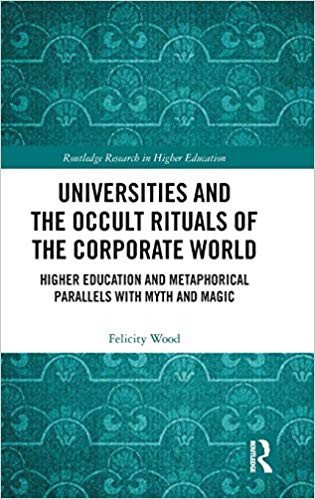 Universities and the Occult Rituals of the Corporate World explores the metaphorical parallels between corporatised, market-oriented universities and aspects of the occult. In the process, the book shows that the forms of mystery, mythmaking and ritual now common in restructured institutions of higher education stem from their new power structures and procedures, and the economic and sociopolitical factors that have generated them.
Wood argues that universities have acquired occult aspects, as the beliefs and practices underpinning present-day market-driven academic discourse and practice weave spells of corporate potency, invoking the bewildering magic of the market and the arcane mysteries of capitalism, thriving on equivocation and evasion. Making particular reference to South African universities, the book demonstrates the ways in which apparently rational features of contemporary Western and westernised societies have acquired occult aspects. It also includes discussion of higher education institutions in other countries where neoliberal economic agendas are influential, such as the UK, the USA, the Eurozone states and Australia.
Providing a unique and thought-provoking look at the impact of the marketisation of Higher Education, this book will be essential reading for academics, researchers and postgraduate students engaged in the study of higher education, educational policy and neoliberalism. It should also be of great interest to academics in the fields of anthropology, folklore and cultural studies, as well as business, economics and management.
---
What Reviewers have said about the book:
"A timely and innovative contribution at a time when Universities world-wide are becoming increasingly bureaucratic and corporate in their approach to academic affairs. This book provides a critique of the mysterious top-down style of managerial control that often stifles academic freedom and thought. Such voices are often oblivious to the academic project. The book shows how the magic of the market has corporatized higher education. It is a must-read for anyone interested in the folklore of university governance."
Professor Russell H Kaschula,
NRF SARChI Chair and Professor of African Language Studies, Rhodes University, South Africa.
- - - - -
"Universities have become international businesses much of whose capital takes the form of academic values and ideals. Such capital is malleable, readily shaped to meet the requirements of corporate marketing. In this extraordinary book, Felicity Wood digs deep into the occult to understand the university's descent into madness. Ritual, myth, mysticism and magic facilitate the sacrifice of public benefit on the altar of neoliberal greed. Where reasoning fails to explain the collaboration of academics in their own demise, fear succeeds. Magic rewards compliant incantation of meaningless mantras - excellence, quality, world class. A brilliant and truly original exposition."
Stuart Macdonald,
General Editor, Prometheus
Book Preview
.
Download a flyer about this book
.
Buy online from Loot in South Africa
.
Buy online from Amazon
.
---
The Extraordinary Khotso: Millionaire Medicine Man from Lusikisiki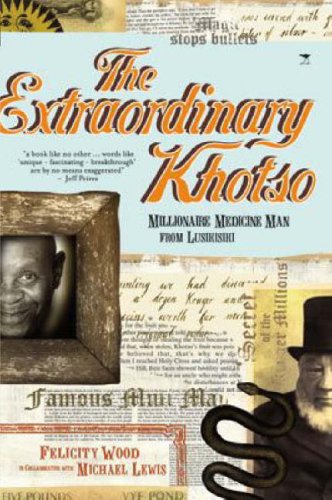 Khotso Sethuntsa, the near-legendary medicine man, was believed to be a worker of powerful and dangerous magic. Khotso was renowned and feared throughout South Africa and beyond, even after his death in 1972. He created a fabulous eccentric kingdom around himself. He has been surrounded by mystery: the origins of his fortune and the extent of his powers shrouded in secrecy. This title takes us into the world of one of southern Africa's best-known herbalists.
Khotso was famed, especially, as a seller of ibangalala, a herbal remedy for sexual potency, and ukuthwala, a terrifying procedure for acquiring long-term wealth. Also, he claimed to be in spiritual contact with Paul Kruger, hinting that his fortune derived from the long-lost Kruger millions. Meanwhile, leading Afrikaner Nationalists politicians, including H.F.Verwoed and J.G.Strijdom, sought Khotso out - for his medicines for political power, it has been said.
Some believed that Khotso had entered into an occult pact with the mamlambo, the seductive mermaid woman who grants wealth at a terrible price. It is rumoured that the tragic twists and turns in his life sprung from this. Yet, as one of his many wives said, he was, too, "a lively, joking medicine man who loved money, sex and laughter."
This title unravels many of the mysteries surrounding Khotso Sethuntsa. It explores his unique empire and tracks his extraordinary career.
---
What Reviewers have said about the book:
""a book like no other … words like 'unique – fascinating – breakthrough' are by no means exaggerated"
Jeff Peires
- - - - -
"well-researched and academically astute"
Fred Khumalo
"Black man who gave Verwoerd orders" SowetanLIVE 16 September 2016.
- - - - -
"This book provides a window into a unique place and time in South African history"
Karen Flint
Kronos. 2012
Buy online from Loot in South Africa.
Buy online from Amazon
.